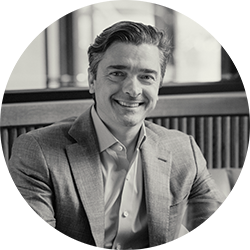 James Fantaci
Founder & CEO
James is a hospitality entrepreneur and the founder of bar56 and taste56. The inspiration originated from his early professional experience, namely his frustrations working in wine retail, where he realized at the time that a scalable concept was logistically impossible. James's vision, however, continued to develop through his experiences working as assistant to the winemaker at Flowers Vineyard and Winery in Sonoma, California, and his subsequent exposure to the wine business in Italy and California, specifically the concepts of Italy's enoteca and California's tasting room.

At age 25, James founded Purple Fēte, a wine brokerage for enthusiasts where his focus was to procure rare wines at the most competitive prices and educate collectors with an often-irreverent approach to wine. While attending the Cornell Hotel School for his Masters in Management of Hospitality, James developed and executed a business plan to transition Purple Fēte into a luxury villa rental company with 29 curated homes and exclusive wine and food experiences in Tuscany, for which he received press recognition for his unique approach to Tuscan hospitality. Later James expanded his vocation to include boutique development, working with partners on a design-driven real estate project in New York.
James attended Skidmore College, the Wine & Spirit Education Trust, and graduated with honors from the Graduate Business program at the Cornell School of Hotel Administration. James is inspired by design: the marriage of form and function, and especially ideas that seek to create change. The operational, physical, and system design of both taste56 and bar56 are the culmination of his education, experiences, and passions. James is also a passionate photographer, amateur cook, road biker, and investor. He has been published several times on various subjects including wine, hospitality, and business.

Jerome Noel
General Manager
Jerome brings a wealth of experience in wine and hospitality as the leader of the taste56 team. His passion for wine and hospitality was sparked under the leadership of Master Sommelier, Bobby Stuckey, at Pizzeria Locale in Boulder, Colorado before earning his Master's in Hospitality Management at the School of Hotel Administration at Cornell. He continued to pursue his wine education with the Court of Master Sommeliers, passing the Advanced Sommelier exam, and a stint working a harvest at Gramercy Cellars in Washington State.
Jerome's achievements in hospitality include climbing the ladder at Union Square Hospitality Group to become Assistant Beverage Director before joining Boka Restaurant Group in Chicago as a Wine Director. He subsequently joined Tock, where his passion for start-up operations, technology, and entrepreneurship culminated to now bring his unique combination of skills to taste56.

As General Manager, Jerome is excited about leading our retail team to help establish a new paradigm in wine retail, where hospitality, design, and technology combine to create a unique experience that empowers customers to learn what they like and why. When not pouring wine for himself or his wife, Francesca, Jerome enjoys reading historical fiction, and improving his technique for handmade pasta, usually with a glass of something tasty close-by.

Aaron Fusco
Vice president of operations
Aaron joined taste56 in 2019 as the Executive Wine Director before assuming his current role as the VP of Operations. Prior to being part of the taste56 family, Aaron was the Wine Director at the Michelin Starred restaurant Café Boulud where he was responsible for the curation and pricing strategy of its 4,500 bottle wine cellar, including maintaining a vast network of top distributor and key producer relationships as well as spearheading staff education, mentorship, and the management of private events.

Before assuming his role at Cafe Boulud, Aaron rose from a server to sommelier leading a team of three somms at Restaurant Daniel. His experience not only sparked his passion for wine and hospitality, but also illuminated their importance as key business differentiators.
In 2016, Aaron took on the side role of beverage director at the critically acclaimed Brooklyn restaurant Oxalis, then a pop-up, including designing and executing the service delivery which sparked an entrepreneurial itch and his eventual interest in joining a start-up. The culmination of his experience, passion for operational excellence, and belief in our mission at taste56 lead to many conversations with James Fantaci and ultimately led to his eventual addition to our team as one of the earliest hires. He is now a key part of our executive team.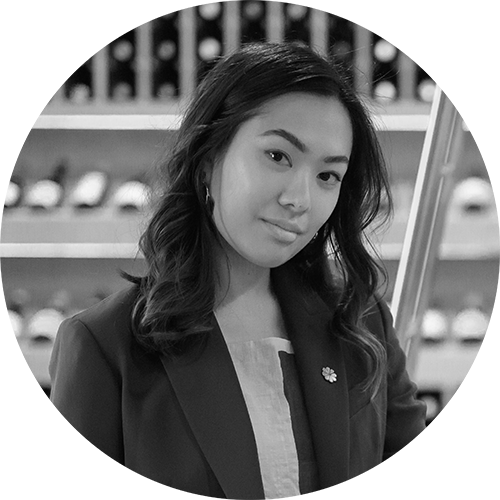 Yvelin Lim
E-commerce operations manager
Yvelin always knew she wanted to pursue a career in hospitality. Her early ambitions lead to her first pursuing a career as a pastry chef at the Culinary Institute of America, but shortly thereafter her passion for wine took center stage sparking a change in focus. Both her passion for wine and business, lead her at the Cornell School of Hotel School where she earned a Bachelor's Degree, earned accolades for her work, became a certified sommelier, and even represented Cornell in collegiate blind-tasting competitions.

After dual stints in the restaurant business with USHG and Seasoned Hospitality, Yvelin assumed a position as a sales specialist at the Skurnik Wines & Spirits, Yvelin was quickly thrown into the deep end of the pool early in her career, assuming the important role of Business Development Manager of Singapore's preeminent Burgundy and Champagne importer, Artisan Cellars where she honed her business skills. She was responsible for managing winery partners, conducting pricing strategies for multiple sales channels, spearheading an inventory system migration, as well as streamlining standard operating procedures.
Yvelin's experience led to the realization that there is an opportunity where technology and hospitality can be combined to create an empowering and unique experience, and she found an opportunity to help create that reality at taste56. As the E-Commerce Operations Manager, Yvelin is ecstatic to bring her operational experience to taste56, where as a team we can challenge preconceived notions, and help people see through the noise, and empower them on their own journey with wine. Outside of wine, Yvelin enjoys scuba diving, and is looking for recommendations for the best ice cream spot in the city.